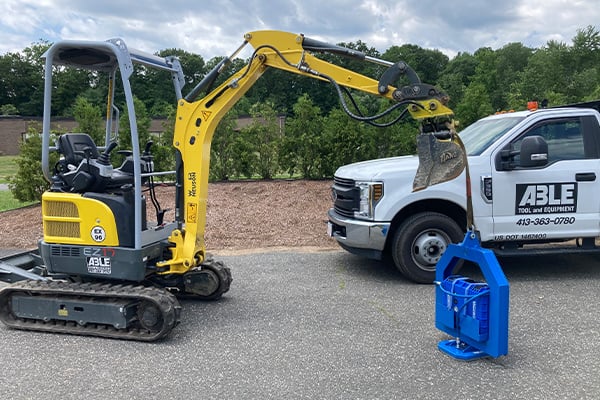 A Massachusetts-based contractor shares their experience using a Vacuworx PHD Series vacuum lifter to help install cube-shaped precast concrete blocks as part of a project recognizing an historic Cambridge ice pond. Lightweight and completely portable, PHD Series units run on a rechargeable lithium battery—perfect for applications where no power source is readily available. The machines were designed for handling materials close to the ground.
A Vacuworx PHD Series lifter was recently put in play by park and concourse specialists Argus Construction Corp. to install a series of precast concrete blocks—a historical ode to the ice once harvested from Fresh Pond in the city of Cambridge, Mass. The improvements, completed in the summer of 2021, were staged at Glacken Field, near one of the sites where renowned proprietor "The Ice King of New England" Frederick Tudor and his associates had worked to perfect their commercial trade.
To save time and ensure an extra safe method during the summer months when production levels were at their highest, Argus Construction incorporated a "top down" approach with vacuum lifting, eliminating the need for any straps, mitigating exposure by creating fewer pinch points, and reducing overall labor requirements on the job.
In all, Argus Construction handled approximately 200 cube-shaped precast concrete blocks in four different sizes, the largest weighing about 1,000 lb (0.45 tonnes), using a Vacuworx PHD Series portable vacuum lifting system coupled with a small Komatsu PC 88 excavator. Both pieces were rented from Able Tool, an authorized Vacuworx distributor specializing in light and compact equipment for the construction industry.
Lightweight and extremely versatile, the PHD Series was engineered for peak material handling performance even while operating in tight or confined spaces. The units are ultra compact—L 19" (483 mm) x H 7.5" (191 mm) x W 14.5" (368 mm)—yet durable and highly adaptable with a dry weight of only 25 lb and lift capacity of 2,500 lb (0.8 tonnes).
PHD Series lifters are battery powered, have a dual pump design, and are compatible with various types of host equipment such as skid steers and mini-excavators, facilitating the ability to go and work anywhere. Remote operation makes them ideal companions for material handlers working indoors or out in the field.
At first, Argus had considered using straps or a clamp-type mechanism to lift and move the precast blocks. The contractor ultimately devised a solution and made a decision to involve Vacuworx throughout the installation process. "The way the blocks were being stacked in close proximity right next to one another, the clamp would have been in the way," said Peter Salem, President of Argus Construction. "Everything else would have been too time consuming. With straps, we would have needed at least two more guys and a spreader bar. Using the vacuum lifter, we were working from the top down and it is safer; you don't have to get your hands in there."
The Glacken Field "ice block" installation wasn't Argus Construction's first run with Vacuworx equipment, and it wasn't the first time Fresh Pond reflected an image of New England innovators reaching new heights.
In his first winter as manager of the Fresh Pond ice fields in 1825, Nathaniel Jarvis Wyeth developed a horse-drawn ice cutter, allowing the previously haphazard blocks of ice to be cut, and then stored, with uniform precision. His invention, according Cambridge Historical Society, made ice harvesting faster, storage more effective and shipping easier—with less waste. His demonstrations helped both Tudor and Wyeth develop a reputation as global avant-gardists in the commercial ice industry.
"We saw (Vacuworx) in a magazine and had used it before to handle larger stone," Salem said. "In business, time is money. This saved us time. It was in the heart of the season, six different jobs going. Using straps would have involved more people; stealing guys from other crews to go help out and do this. With Vacuworx, one guy puts it on and another takes it off as you are grading the area. It allowed us to work faster and more efficiently while maximizing resources on other project locations."
Argus Construction, based in Bedford, Mass., specializes in general contracting, as well as public-sector park and recreational-facility work in Massachusetts, Southern New Hampshire and Connecticut. The company was founded and has been in continuous operation since 1994.
Vacuworx, founded in 1999, is a global leader in the development and proliferation of vacuum lifting technology for material handlers operating in the oil and gas pipeline, utility infrastructure, civil construction, concrete renovation, hardscape and quarry, and fabrication and precast sectors.
Based in Connecticut, Able Tool currently deals primarily in three lines of vacuum lifters attuned specifically to situations where light weight and adaptability are important.